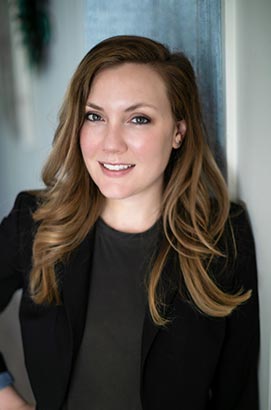 Jane Michalakes joins Halligan LLC with an eclectic set of skills and experiences that fit us like a glove.
As an English and Anthropology double major at the University of Colorado, she honed her writing and critical thinking skills. She developed a passionate interest in domestic violence issues that convinced her to head for law school with the goal of becoming a family law attorney.
Law school – at the University of Denver – reinforced her decision. Jane was enamored with family law even while embarking on a series of very different internships. She was a team leader for the Tribal Wills Project helping to write and execute wills for Native American Tribal clients. She spent five months learning "more about wild horses than I'd ever wanted to know" working for Friends of Animals.
We weren't kidding about eclectic.
Since Jane graduated and was admitted to the Colorado Bar, she has gained wide-ranging experience in every area of family law. She has settled divorce and child custody matters through negotiation and mediation as well as litigating issues where "my client and the opposing party were just too far apart to work it out."
Jane is comfortable with any law family scenario. Her philosophy is concise: "All I want is a good outcome for my clients. I want them to be happy with the decisions they have to make throughout the process. I work for them; they tell me their goals and I do all I can to achieve them."
When Jane is not helping our clients, she does yoga, runs, and explores the greater Denver area with her fiancé, Alex and their two dogs. She is equally devoted to True Crime documentaries, Amazon's The Expanse, and the Rockies. Jane and Alex are regular Geeks Who Drink Pub Trivia goers . . . and, yes, they do pretty well.